Jan 23, 2015
Munich, Germany
9:00–17:00
Description
In this full-day workshop, Vitaly Friedman (editor-in-chief of Smashing Magazine) will present practical techniques, clever tricks, and useful strategies you need to be aware of when working on any responsive design project. Read more about this workshop at Smashing Magazine.
Tutor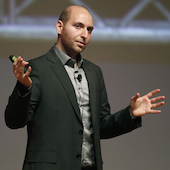 Vitaly Friedman loves beautiful content and does not give up easily. Originally from Minsk in Belarus, he studied computer science and mathematics in Germany. After working as a freelance designer and developer for 6 years, he co-founded Smashing Magazine, a leading online magazine dedicated to design and Web development.
Sponsors
This workshop is co-organized with Smashing Magazine and kindly supported by codecentric AG.
Request This Workshop Again